Marcy Lafferty as Vivien Leigh

John Edw. Blankenchip - Director
MARCY LAFFERTY
as Vivien Leigh

Ms. Lafferty was born into a show business family, her father, a television producer and executive and her mother, a radio actress. She began at age five, studying ballet at American Ballet Theatre and Shakespeare from her mother.

Marcy Lafferty wrote, directed and starred in "Vivien: The Movie, The Marriage, The Madness".

This film was the impetus for the current stage production, a more comprehensive study of Vivien Leigh.
Ms. Lafferty has appeared in over 60 plays internationally. Highlights include "Cat on a Hot Tin Roof" and Simon Grey's "Otherwise Engaged" as Divina Saunders. She played the Eastern United States summer circuit in "The Tender Trap" and "Period of Adjustment." Most recently she portrayed Portia in "The Author's Voice" at the Stella Adler Theatre. Ms. Lafferty toured the nation in "Love Letters" with William Shatner.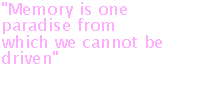 Her film credits include "Airplane II," "Star Trek: The Motion Picture," and a starring role in the cult classic "The Day Time Ended." She has made numerous television appearances and has had recurring roles in two series. Her first film as a producer, "Rave Review," earned critical praise and many international honors.
While a Cum Laude student as USC, Ms. Lafferty was a member of Festival Theatre USC-USA, which was the first American troupe to participate in the Edinburgh International Drama Festival, appearing as Abigail in "The Crucible," Lois in "Dear Friends," Katherine in "Suddenly Last Summer," Elise and Maggie in "After the Fall" and was a singer dancer in "Guys and Dolls" and "Pal Joey." It was through this program that she met director John Edw. Blankenchip, who 30 years later was instrumental in bringing "Vivien Leigh: The Last Press Conference" to fruition.
JOHN EDW. BLANKENCHIP
Director
Mr. Blankenchip is the founder and director of Festival Theatre USC-USA, presenting full length dramas, musicals, chamber operas, dance dramas, and other theatrical work overseas. Since 1966 Festival Theatre USC-USA has performed 1,285 performances of 220 productions at the Fringe of the International Edinburgh Festival and received two special Fringe First Awards for his British premiere productions of Sam Shepard's "Buried Child" and Stephen Sondheim's "Follies." Blankenchip is Professor Emeritus at the University of Southern California's School of Theatre. He has designed scenery, costumes and lighting on and off Broadway, and at La Jolla Playhouse, Tanglewood in Lennox, Massachusetts, and for the Guild Opera in Los Angeles.